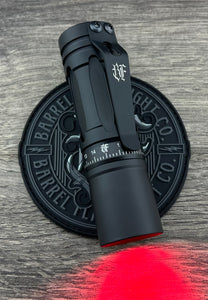 Barrel Non Vented Aluminum Birdcage Black Cerakote Dragon Driver with Red Secondary. Black Cerakote Turret Ring and BF logo Clip.
Regular price $425.00 Sale
Birdcage Non Vented Aluminum body with Aluminum head.
Non vented solid body with windows and sleeve deleted which allows for using the larger capacity 18350 Li Ion battery.

Black Cerakote Head and Body.
Black Cerakote Stainless Steel Clip with BF logo and Aluminum Barrel Turret Ring with BF zero stop.
7075 Aluminum is very light and very strong.
This is built with programmable CWF Dragon driver with triple LED.

Red secondaries with primary Samsung 351D 5K with no glow gasket. This runs on a single rechargeable 18350 Li Ion battery. Patch is not included.
As pictured is not the actual Barrel you will receive. Pattern and color will vary from Barrel to Barrel. Each Barrel Flashlight is unique.
Product ships in 2-3 business days.

International buyers must assume all right and responsibility once orders leave the United States. Please be aware of your local laws, restrictions and custom fees. Shipping times are an estimate and will be USPS.